ABU DHABI, 20 October 2022:  Tawazun Economic Council (Tawazun) hosted a 30th-anniversary celebration, in the presence of H.E. Mohamed bin Ahmed Al Bowardi, Minister of State for Defense Affairs.
In attendance were H.E. Dr. Sultan bin Ahmed Al Jaber, Minister of Industry and Advanced Technology, H.E. Sarah bint Yousif Al Amiri, Minister of State for Public Education and Advanced Technology, H.E. Dr. Thani bin Ahmed Al Zeyoudi, Minister of State for Foreign Trade, H.E. Ahmed Ali Al Sayegh, Minister of State, H.E. Jassem Mohammed Buatabh Al Zaabi, Chairman of Abu Dhabi Finance Department and a number of senior officials.
Also present were H.E. Tareq Abdulraheem Al Hosani, Chief Executive Officer of Tawazun, Tawazun board members, executive management, and staff.
In his remarks, H.E. Mohamed Al Bowardi extended greetings to President His Highness Sheikh Mohamed bin Zayed Al Nahyan, whose vision has steered Tawazun's path to success for the last 30 years.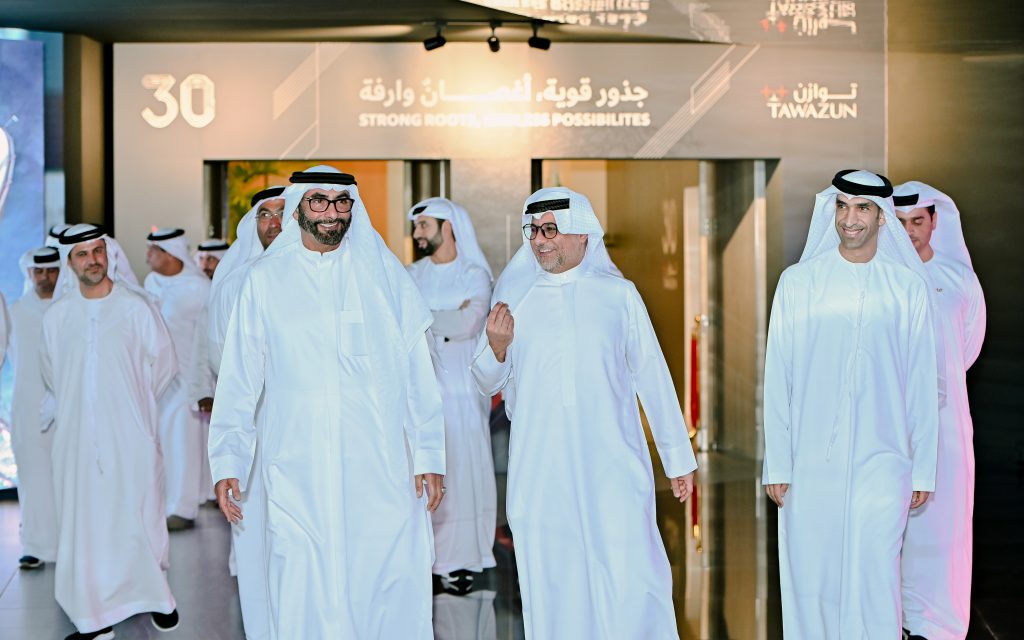 "Thanks to His Highness Sheikh Mohamed bin Zayed Al Nahyan's ideas and directives, supported by the late Sheikh Zayed bin Sultan Al Nahyan and the late Sheikh Khalifa bin Zayed Al Nahyan, Tawazun continued to develop and succeed throughout the past three decades," he said.
Tawazun's role, he noted, has expanded and diversified over the years into that of a think tank and a key contributor to the comprehensive development plans.
"Soon after its establishment in 1992, Tawazun introduced new concepts, including privatization of water and electricity and Initial Public Offerings (IPOs). The Council also promoted partnerships with the world's leading companies, allowing for the exchange of expertise and sharing of best practices."
"Tawazun's continuous successes culminated in 2021 with the mandate to manage the procurements and contracts of the UAE Armed Forces and Abu Dhabi Police. The Council remains committed to fulfilling the requirements of the Armed Forces and Abu Dhabi Police and to support defense and security sectors," he added.
A short film, titled Hassad Roeya (A Leader's Vision), depicting Tawazun's journey to success and its broad future ahead, was screened during the event. The film ended with the slogan of Tawazun's 30th year: "Strong Roots, Endless Possibilities".
In 1992, Tawazun Economic Council, formally known as the UAE Offset Group, was established, in line with the leadership's vision for comprehensive and sustainable development within the UAE. Over the last 30 years, Tawazun has built and managed industrial relationships for the benefit of the UAE's sovereignty as well as wider economic effect and prosperity.
Tawazun has ultimately enabled the creation of more than 111 companies and investment vehicles across 12 industry sectors, as the originator and facilitator of global and local partnerships, stimulating and building supply chains, supporting local SMEs, and creating globally integrated industry sectors.